Motorola Solutions News - Smart Label
[Good Century Holdings Limited is a Motorola Solutions Distributor in Hong Kong – latest news on Smart Label rollout from Motorola Solutions]
Counterfeit Motorola Solutions Radio and Battery products are still being found in the market. Unlike Motorola Original products, counterfeits may lack product testing and quality control during their manufacturing process. Hence, counterfeit radios have poor quality and greater failure rates than Motorola Original radios. Counterfeit batteries may present users with the danger of subpar batteries that overheat, melt or emit flames. This could cause property damage or personal injury.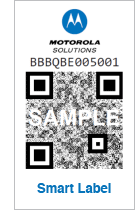 As a global leader in mission-critical communications, Motorola Solutions announced the Smart QR Code Label (Smart Label), an anti-counterfeiting label that uses robust artificial intelligence security QR code authentication to help customers quickly distinguish genuine Motorola radio and battery products from counterfeits. The Smart Label will also help to distinguish Motorola radio and battery products that are not intended for the Hong Kong market (parallel imports). Such parallel imports are not covered by our Hong Kong local product warranty policy.
Starting from 1 March 2020, the Smart Label will be rolled-out to the Hong Kong market on the MOTOTRBO™ radio and battery product lines. The Smart Label will help prevent the spread of counterfeit products in the market, and also help customers quickly check if a radio or battery product is a parallel import.
The launch of the Smart Label comes with a double surprise. Jumpstart Service Package will be included along with any purchase of MOTOTRBO™ Digital Mobile Radio (DMR) products. This premium software features Transmit Interrupt, Text to Speech and Man Down functions, which helps users be safer, more efficient and productive at the workplace. What's more? We are pleased to provide a warranty of two years for the Smart Label MOTOTRBO™ DMR products.
For enquiries, please do not hesitate to contact Good Century Holdings Limited, the Motorola Solutions Distributor in Hong Kong.
+852 3898-4910 info@good-century.com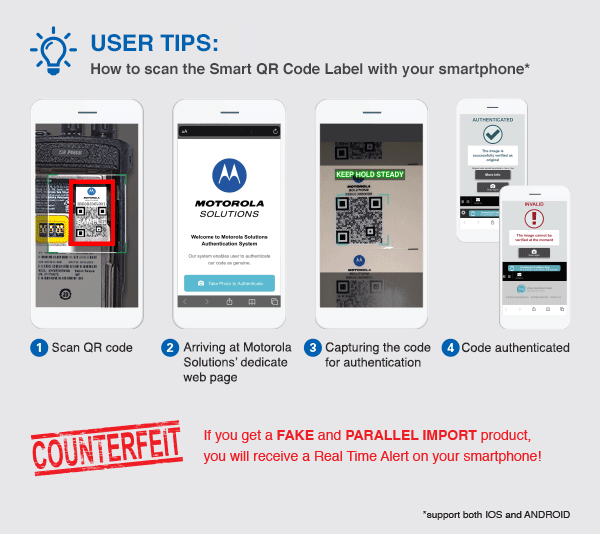 MOTOROLA, MOTO, MOTOROLA SOLUTIONS and the Stylized M Logo are trademarks or registered trademarks of Motorola Trademark Holdings, LLC and are used under license. All other trademarks are the property of their respective owners. © 2020 Motorola Solutions, Inc. All rights reserved.